America Recycles Day is a nationally recognized day that takes place on November 15th. It is dedicated to promoting and celebrating the importance of recycling in the United States. As a result of America Recycles Day, Texas Recycles Day was established as an initiative to further enhance recycling efforts across the state. Texas Recycles Day is an annual campaign that aims to raise public awareness about the environmental and economic benefits of the Four R's – reduce, reuse, recycle, repair. Join United Electronic Recycling and communities across Texas as we celebrate America Recycles Day & Texas Recycles Day.
Electronic Recycling Events in November
| City | Date | Time | Address | Info |
| --- | --- | --- | --- | --- |
| Westlake | 10/7/23 | 9:00am-11:00pm | 1400 Solana Blvd, Westlake, TX 76262 | Westlake residents only |
| Plano | 10/7/23 | 9:00am-12:00pm | 3160 E Spring Creek Pkwy, Plano, TX 75074 | Open to the public |
| Plano | 10/14/23 | 9:00am-11:00am | 5801 W Plano Pkwy, Plano, TX 75093 | Open to the public |
| Stephenville | 10/14/23 | 9:00am-12:00pm | 1201 Glen Rose Road Stephenville, TX 76401 | Stephenville & Erath County residents only |
| Murphy | 10/14/23 | 9:00am-12:00pm | 206 N Rd, Murphy, TX 75094 | Murphy residents only |
| College Station | 10/21/23 | 7:00am-2:00pm | 3380 University Dr E, College Station, TX 77845 | Brazos Valley Ranch residents only |
| Plano | 10/21/23 | 9:00am-11:00am | 3101 Coit Rd, Plano TX 75075 | Open to the public |
| Dallas | 10/28/23 | 11:00am-1:00pm | 6211 W Northwest Hwy, Dallas, TX 75225 | Open to the public |
Celebrate Texas Recycles Day
Plano's Texas Recycles Day
---
November 11, 2023
Saturday 8:30am-12:00pm

In association with Texas Recycles Day, the city of Plano and Live Green in Plano will host an event to collect recyclables at Chase Oaks Church, 281 Legacy Drive.
Please note: we have recycling fees for the following items
TVs- $25
CRT Monitors- $10
Printers, copiers, and fax machines- $5
Additionally our shredding company Mobile Shred It will be there for paper shredding. This service will be free to the Plano residents (two-box limit). All paper is shredded on-site at the event. We do ask to please remove large binder clips, plastic, binders, and magnets. Once shredded, all paper is recycled, adhering to our zero-landfill initiative for sustainability.
UTA's America Recycles Day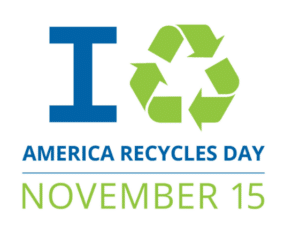 ---
November 16, 2023
Thursday 11:00am-2:00pm
In association with America Recycles Day, UTA's Department of Sustainability will host an event for the UTA community to collect recyclables at the UC Mall, 300 W. First St., Arlington Tx.
Electronic equipment
Computer Equipment (Monitors, CRT's, PC's laptops, etc.)
Test equipment
Cell phones (batteries removed)
Pagers (batteries removed)
Digital cameras (batteries removed)
Radios (batteries removed)
Telecommunications equipment
Sound and lighting equipment, including amplifiers, speakers, dimmers, control boards and interfaces and standard cabling related to
Consumer home electronics (Stereo's DVDNHS players, tuners, TV's, etc.}
Miscellaneous electronic equipment
Printer I toner cartridges (for inkjet and laser printers)
All electronic peripherals- Printers, Hard Drives (personal, not UT Arlington property), Floppy's CD Rom's DVD Drives, Printed Circuit Boards, Power Supplies, Zip Drivers, Jazz Drives, Smart cards, cable, wiring, IC's – Integrated Circuits, Memory, Resistors, Capacitors
Electronic Recycling Drop-off Center
Can't make it to a collection? You can drop off your e-waste at our facility in Coppell, without appointment, anytime during our regular business hours.
Operation Hours: Monday-Friday 8:00am-4:30pm
Location: 505 Airline Dr. Coppell, Tx 75019
Information Requests
If you have questions or need additional details regarding events and/or services you can email us at info@uerteam.com or call us at 855-837-8326