United Electronic Recycling is able to accept and recycle the vast majority of all electronics through our collection events for cities & residents as well as from businesses large and small.
We also accept drop-off residential electronic recyclables at our Coppell Facility located at: 505 Airline Dr, Coppell TX 75019.
Hours of operation: 8am-4:30pm Monday-Friday (except for holidays)
Drop Off Collection Fees:
TVs – $25
CRT Monitors – $10.00
Printers Copiers – $5.00
Fax Machine – $5.00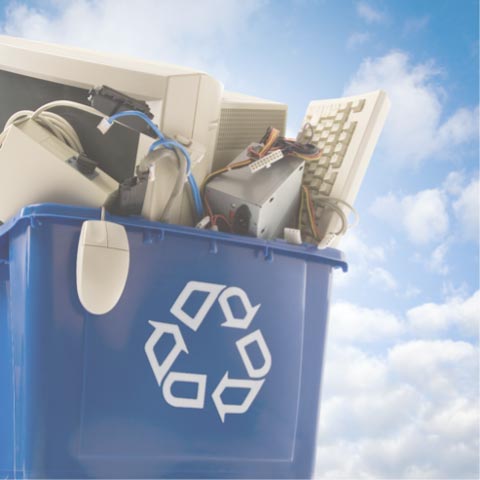 What Electronics are accepted?
All Televisions and Monitors: including CRT Monitors and TV's, LCD & LED Monitors and TV's, Rear Projection Televisions, Flat Screen Televisions and all sizes and models of Televisions.
All Computers and Components: including Desktops, Notebooks, Workstations, Servers, Terminals, Network Equipment, Motherboards, RAM, CPU, PSU, Video & Sound Cards, External Back Up Drives and Devices, Hard Drives, SSD – Solid State Drives, CCC Systems and APC/UP, Printers, Scanners, Speakers, Microphones, Keyboards, Mice, Optical Disks and Floppy Disks.
All Wires and Cables: including Power Cords, AC Adapters, USB Cables, Parallel Cables, Phone Cables, Cat & BNC Cables, Extension Cords, Surge Protectors, any excess Cables, Wires and Chargers.
All Network and Communications Equipment: including Telephones, Routers, Switches, Firewalls, Hubs, Load Balancers and External Storage Devices.
All Office and Retail Electronics: including Fax Machines, Copy Machines, Point of Sale Equipment, Registers, Scales, Scanners, Cash Drawers, Receipt Printers, etc.
All Consumer Electronics: Cell phones, Tablets, PDAs, Game Consoles and Video Games, Learning Consoles, Cameras, CB Radios, Walkie Talkies, Satellite Dishes, Security Systems, Cable Boxes, Sound Bars, Speakers, Calculators, and Christmas Lights.
All Audio / Video Equipment: Projectors, Amplifiers, Equalizers, Receivers, Video Players, Mixing Boards, Effects Units, Reel to Reel, Radios, Car Radio Systems, VHS Tapes, Cassette Tapes, Tape Decks, B Track, Mixers, Turntables, CD's and DVD's.
Batteries and Backups: Laptop Batteries, Cell Phone Batteries, Li-ion, Ni-NM, Sealed Batteries and Lead Acid Batteries.
Industrial and Appliances: Ovens, Metal Sinks, Light Trusses, Light Ballasts (no PCB's), Microwaves, Washers, Dryers, Refrigerators, Freezers, Compactors, Toaster Oven, Air Fryers, Crushers, Blender, Food Warmers, Scales, Mixers, Transformers, Alternators, Breaker Boxes, Soda & Candy Machines, Motors, and Conveyor Belts.
Smoke Detector and Fire Extinguishers (emptied)
*We cannot accept items containing Freon if the Freon has not yet been recovered.