DFW businesses and residents have a professional local recycler for their end of life electronics: United Electronic Recycling.
United Electronic Recycling is able to accept and recycle the vast majority of all electronics at our Coppell Facility located at: 505 Airline Dr, Coppell TX 75019. Hours of operation: 8am-6pm Monday-Friday (except for holidays).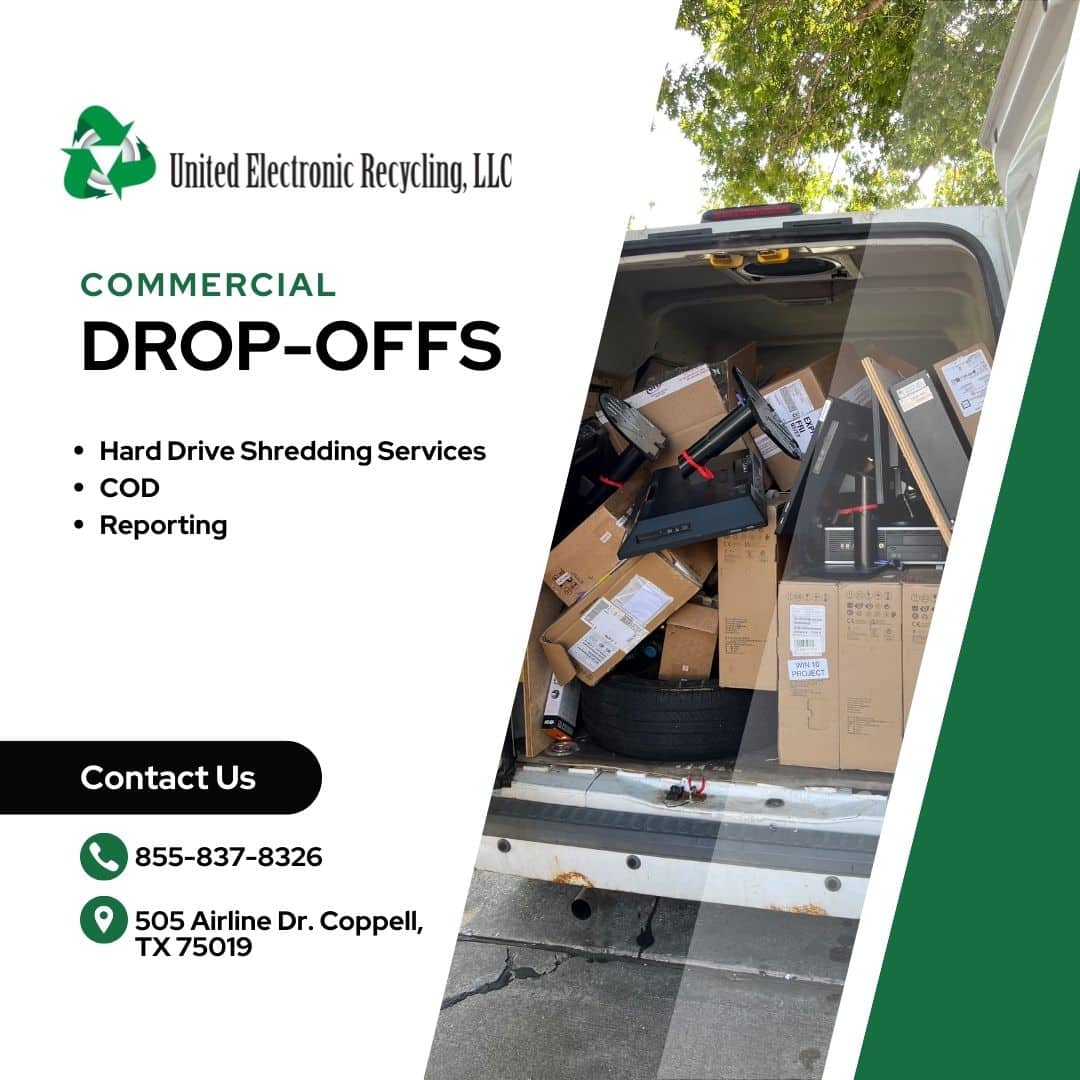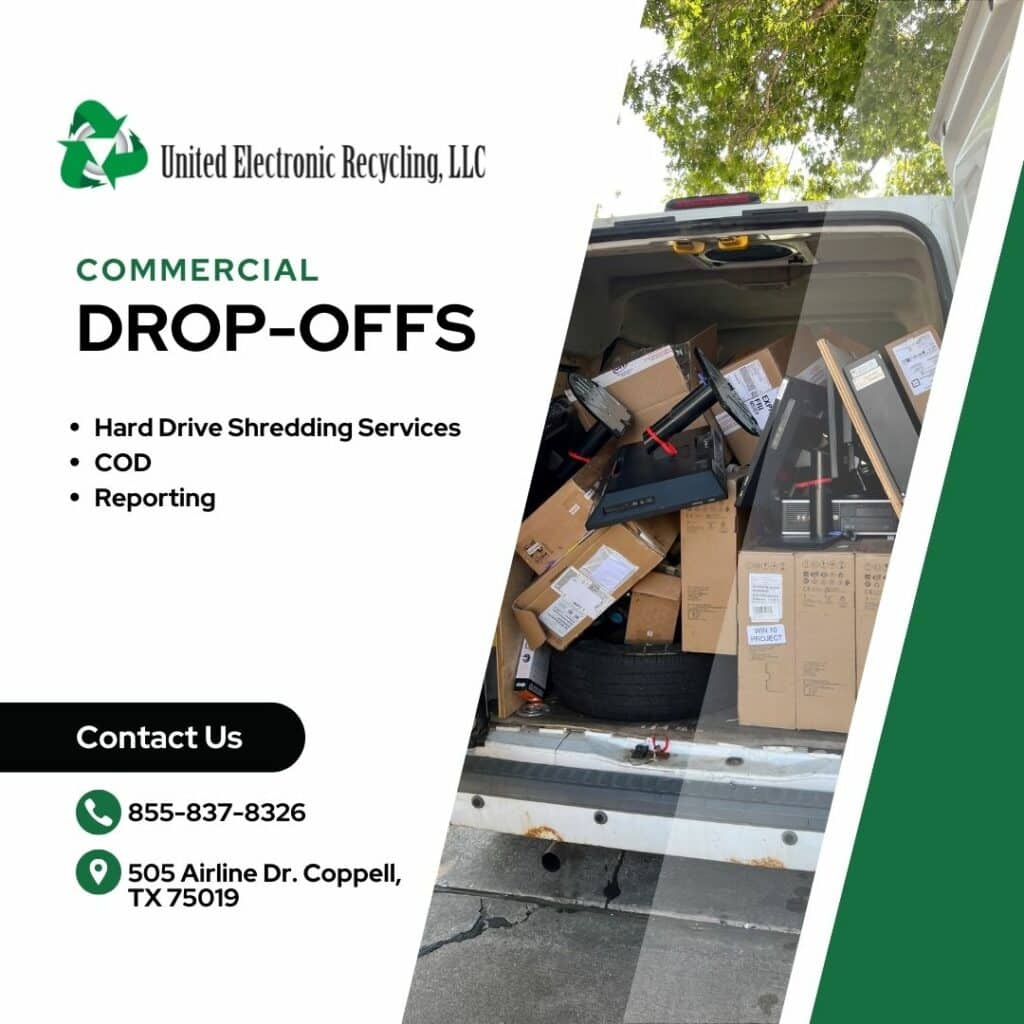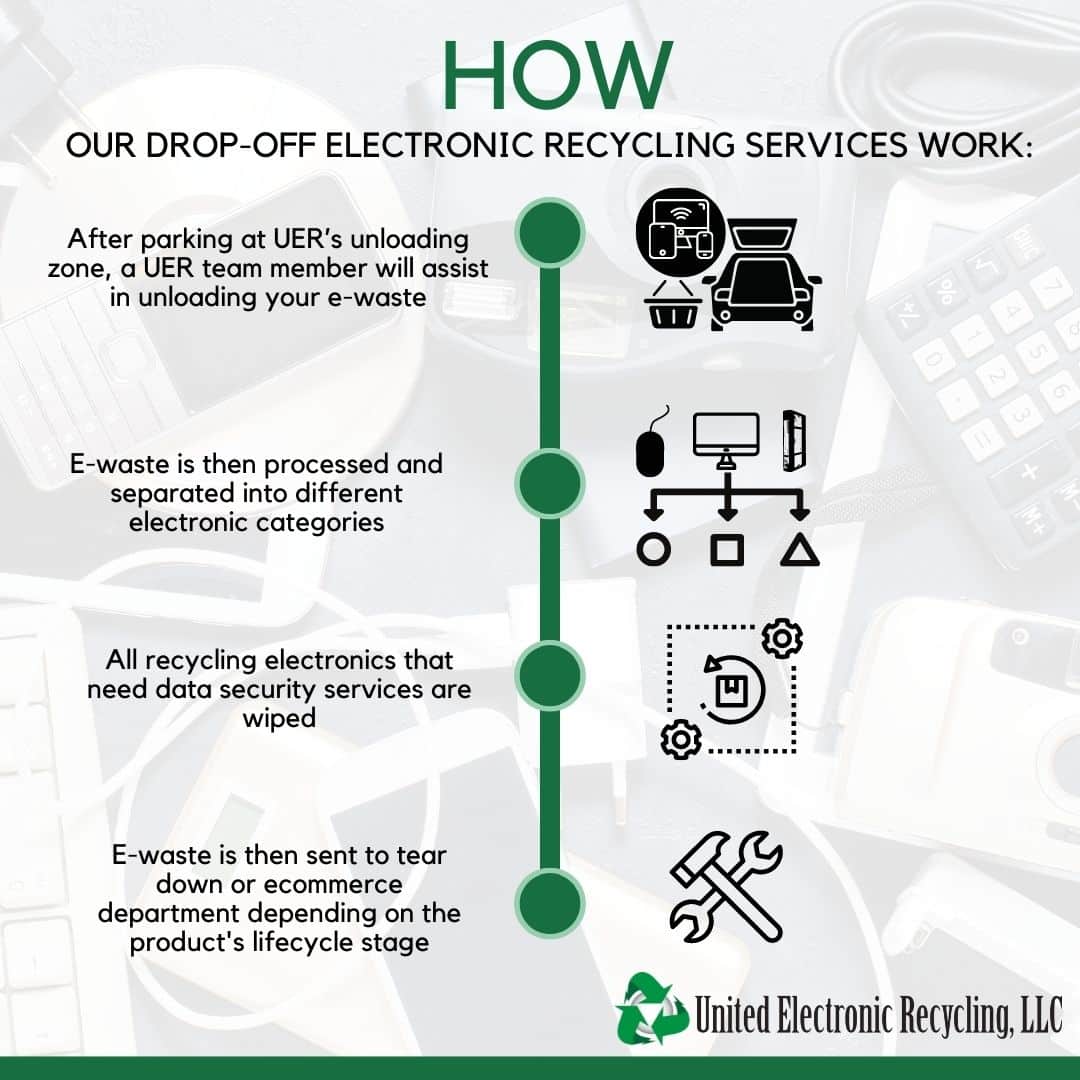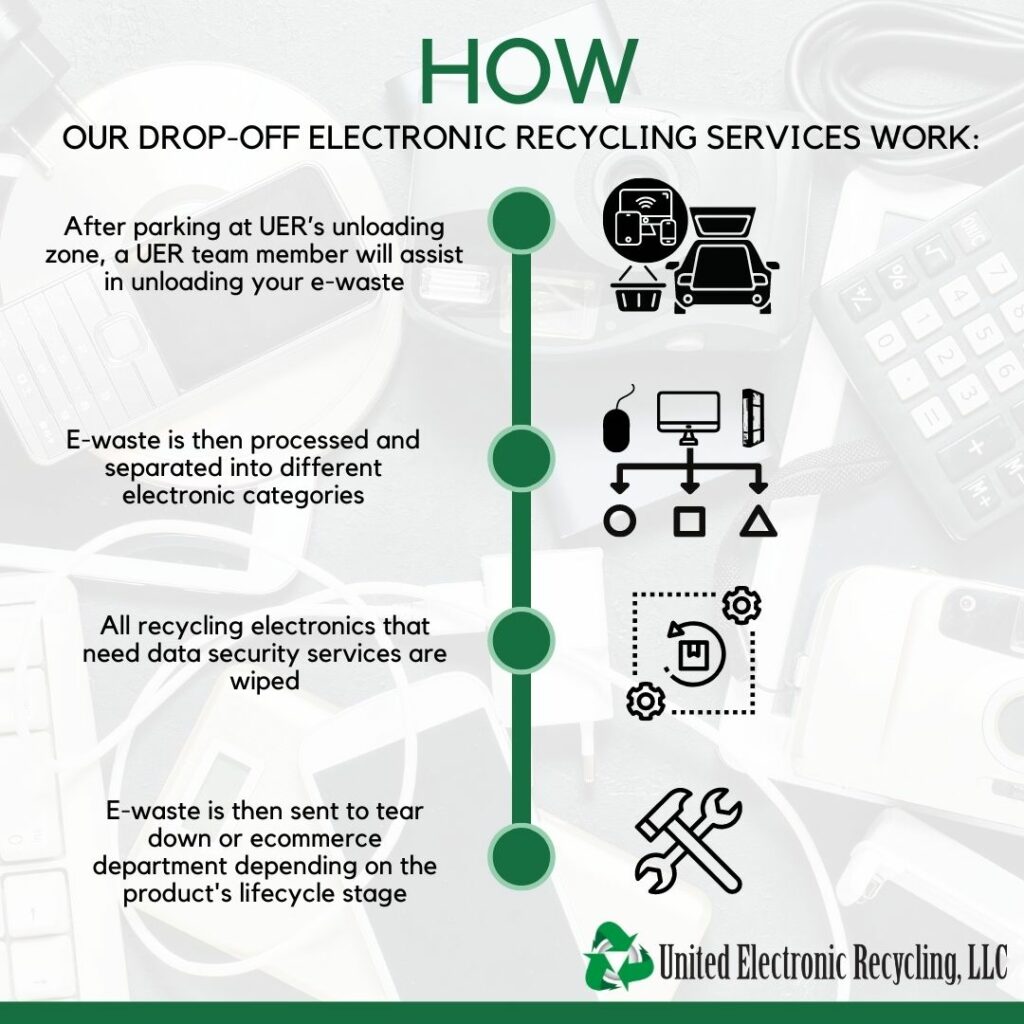 Drop off collection fees:
TVs – $25

CRT Monitors – $10.00

Printers Copiers – $5.00

Fax Machine – $5.00

Detailed list of accepted items:
All Televisions and Monitors: including CRT Monitors and TV's, LCD & LED Monitors and TV's, Rear Projection Televisions, Flat Screen Televisions and all sizes and models of Televisions.
All Computers and Components: including Desktops, Notebooks, Workstations, Servers, Terminals, Motherboards, RAM, CPU, PSU, Video & Sound Cards, External Back Up Drives and Devices, Hard Drives, SSD – Solid State Drives, CCC Systems and APC/UP, Printers, Scanners, Speakers, Microphones, Keyboards, Mice, Optical Disks and Floppy Disks.
All Wires & Cables: including Power Cords, AC Adapters, USB Cables, Parallel Cables, Phone Cables, Cat & BNC Cables, Extension Cords, Surge Protectors, any excess Cables, Wires and Chargers.
All Network & Communications Equipment: including Telephones, Routers, Switches, Firewalls, Hubs, Load Balancers and External Storage Devices.
All Office and Retail Electronics: including Fax Machines, Copy Machines, Point of Sale Equipment, Registers, Scales, Scanners, Cash Drawers, Receipt Printers, etc.
All Consumer Electronics: Cell phones, Tablets, PDAs, Game Consoles and Video Games, Learning Consoles, Cameras, CB Radios, Walkie Talkies, Satellite Dishes, Security Systems, Cable Boxes, Sound Bars, Speakers, and Christmas Lights.
All Audio / Video Equipment: Projectors, Amplifiers, Equalizers, Receivers, Video Players, Mixing Boards, Effects Units, Reel to Reel, Radios, Car Radio Systems, Cassette Tapes, Tape Decks, B Track, Mixers, Turntables, CD's and DVD's.
Batteries and Backups: Laptop Batteries, Cell Phone Batteries, Li-ion, Ni-NM, Sealed Batteries and Lead Acid Batteries.
Industrial & Appliances: Ovens, Metal Sinks, Light Trusses, Light Ballasts (no PCB's), Microwaves, Washers, Dryers, Refrigerators, Freezers, Compactors, Crushers, Food Warmers, Scales, Mixers, Transformers, Alternators, Breaker Boxes, Soda & Candy Machines, Motors, and Conveyor Belts.
*We cannot accept items containing Freon if the Freon has not yet been recovered.