The growing demand for cloud technology is driving a surge in the number of data centers. Market analysts are predicting a substantial increase in the data center market, reaching a staggering $615.96 billion between 2021 and 2026, with the United States leading the way in this growth.
These data centers have a profound impact on various aspects of our lives, including communication, work, and information storage. The reliance on cloud infrastructure enabled numerous businesses to transition to remote work during the pandemic.
As data usage continues to expand, data centers are now tasked with managing a larger volume of electrical equipment than ever before. It is crucial to note that this equipment cannot simply be discarded when it malfunctions. This raises concerns about electronic waste (e-waste), which is a significant environmental issue. Data centers play an essential role in helping us reduce e-waste and mitigate its impact on the environment.
The Relationship Between Data Centers and Recycling 
Data centers rely heavily on electronic equipment, which must be responsibly recycled once it reaches the end of its value. This includes a wide range of components such as servers, blades, storage systems, networking devices, power supplies, cooling systems, and more.
In addition to reducing the environmental impact of e-waste, recycling these components presents an opportunity for data centers to ensure nothing is wasted. To achieve this, data centers should embrace a systematic approach to recycling that involves collecting, transporting, sorting, and disposing of all electronic waste. This process should be guided by a comprehensive e-waste management policy.
What can be recycled?
Networking equipment like switches, routers, and firewalls
Power distribution units  (PDUs)
Drive arrays
Cat 5, Cat 6 & Cat 7 cables
Fiber optic cables & Ethernet cables
Hard drives
Server hardware like CPU and RAM
Uninterrupted power supplies (UPS)
Racks and enclosures like server racks
Why Electronics Recycling Is so Important
End-of-life IT assets from data centers, such as servers, cables, computers, and other equipment, contain harmful substances that can pose significant health risks if not handled properly. These outdated electronics house elements like mercury, lead, arsenic, and other materials that require strict regulations for recycling and disposal.
When data center recycling decision-makers upgrade their servers or storage systems, responsible recycling should be a top priority. It is essential to recognize that recycling is equally significant when it comes to the closure of data centers. Any equipment that cannot be repurposed must seamlessly integrate into a comprehensive recycling plan, ensuring a sustainable and environmentally friendly approach.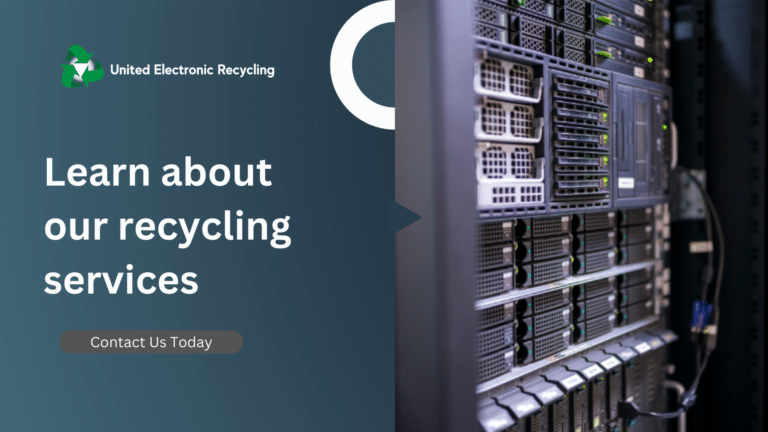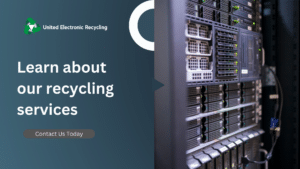 Your trusted partner for all your data center recycling needs
At United Electronic Recycling, we prioritize the responsible handling of your IT recycling needs. With our commitment to proper recycling and data destruction protocols, you can trust that your decommissioning project will be handled with the utmost care and attention. Our comprehensive services encompass convenient pickup, meticulous sorting, efficient dismantling, and the recycling of electronics. We are firmly committed to our zero-landfill policy, ensuring that every step of the process is carried out with environmental sustainability in mind. Contact us to learn how UER can assist you with your electronic recycling needs.