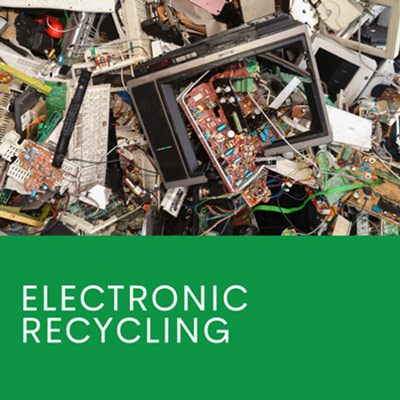 United Electronic Recycling offers electronic recycling collection across the country. We accept and recycle the vast majority of all electronics through our collection events for municipalities and residents as well as from businesses large and small. We also accept drop-off residential electronic recyclables at our Coppell Facility located at 505 Airline Dr, Coppell TX 75019.
Hours of operation: 8:00am-4:30pm Monday-Friday (except for holidays).
To learn more about the communities we serve visit our Service Area page
---
Prepare for your visit
Pre-Arrival Info
Do I need an appointment?
For general recycling, no appointment is required.
Do I need to be a resident of Coppell?
No, we accept electronics from all DFW area residents and businesses. No proof of residency is required.
What items can I bring? 
We accept all kinds of electronics! As a general rule, anything that plugs into an electrical outlet uses batteries, or plugs into another piece of equipment is generally accepted at our facility. For a detailed list see: Items We Accept. If you don't see a category that you think fits your item, please give us a call before visiting our facility. Our number is (855) 837-8326.
Do I need to pay anything?
For most items, there is no charge to recycle at our facility. For some, items such as Televisions, CRT monitors, printers, copiers, fax machines, light bulbs, and refrigerators recycling fees apply.
Drop Off Electronic Recycling Fees:
TVs- $25
Refrigerator- $20
CRT Monitor-$10
Printer/Copier/ Fax Machine-$5
Lightbulbs-$1
Please note: We cannot accept items containing Freon if the Freon has not yet been recovered.
---
Arrival Info
Where do I go?
When you first arrive, please enter through the front of the building. Please check in at the front desk to let us know you're here. We do have recycling fees for the items mentioned in the Pre-Arrival Info. After, checking-in we will ask you to please park your vehicle in front of the unloading zone. The unloading zone is located next door to the main entrance door in front of the building. A UER team member will assist in unloading the items.